Sculpting Light and Shadow – An Interview with Marta Djourina and Viktoria Draganova
2023-04-18 ・ Ivan Kolarov
For the 58th exhibition at foryouandyourcustomers and the second exhibition at the Sofia office curator Viktoria Draganova invited the artist Marta Djourina. An interesting decision from the beginning was to involve the team to turn in personal objects thus contributing to the process around building up the exhibition. This eventually featured a new series of photograms and a site-specific installation on the transparent walls in the office as well.
Titled "In Touch" the art exhibition focuses not only on the meeting points between the light and specific objects, but also the intersection of personal and public, losing and regaining control, form and shape. The exposition is on display from September 2022 to July 2023. It includes more than thirty works installed by groups or individually across the office spaces under the curation of Viktoria Draganova. Everyone interested in art is welcome to visit the exhibition during our office hours with prior registration.
foryouandyourcustomers: Marta, photograms are your favoured way of visualising your thoughts through art. Are you using them from the beginning of your career or did you prefer another art technique in the past?
Marta Djourina: My path started with a very classical drawing in Sofia during courses that I took to prepare myself for the entry exams at the Academy of Art. These drawings, step by step, took a main focus into realistically and precisely drawn out compositions of spaces of light. How to create a volume by using just a pencil and an eraser, in a way sculpting light and shadows.
"And suddenly, from a theme, light became also a tool."

— Marta Djourina
By chance I happened to visit a black and white photo lab and very naturally I found a way to transfer the pencil's aesthetics to photograms on black and white paper. Somehow they reminded me of drawings. After a while I discovered the first sources of light and I placed them in the lab. Lasers, green lasers that caused the paper to react to their light, even though it was black and white, which made it less sensitive to light. And suddenly, from a theme, light became also a tool.
---
Marta Djourina and Viktoria Draganova at the 58th Vernissage of foryouandyourcustomers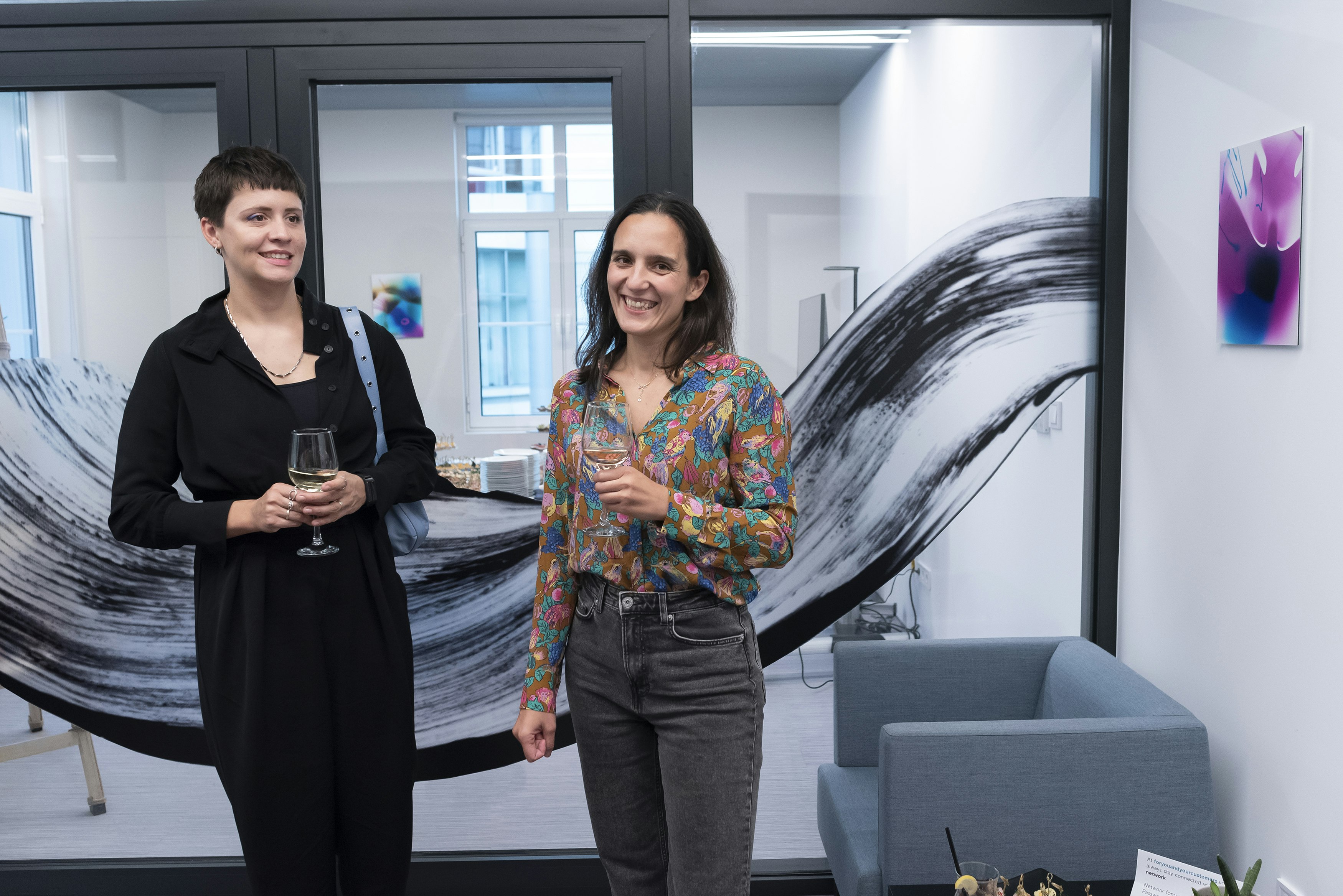 ---
And so the photograms… Actually I'm searching for a term to call this technique because it's not just a photogram – the works in the office are, but most of my works are not just photograms, they are not luminograms either. Somehow I don't have a specific term for them and I place very long descriptions like "direct exposure on a photo paper with self-made film negative and light sources (e.g. lasers, self-made lights etc.)". This, of course, is very long but for now it serves its purpose because, you see, a lot of works don't have titles and they are being described through additional descriptions.
But let me get back to your question. Moreover, photograms are one of the techniques that I use in the research of different light sources and the traces they leave. I believe this is the short answer.
foryouandyourcustomers: Did you find any challenges in creating art pieces that were to be arranged in an office space and not a gallery? 
Marta Djourina: Thanks to the cleared ideas on organisational level I had it somewhat easy. When we both talked about the office, Viktoria led me to think how important it would be to include the people working in a place such as this. This initial impulse developed into several ideas that also showed me the way the project is currently going on, otherwise the exhibition would have missed the opportunity to involve the employees as it did. This happened to be one of the challenges you mentioned, because it opened the working process which I usually spend alone in the complete darkness of the photo lab.
---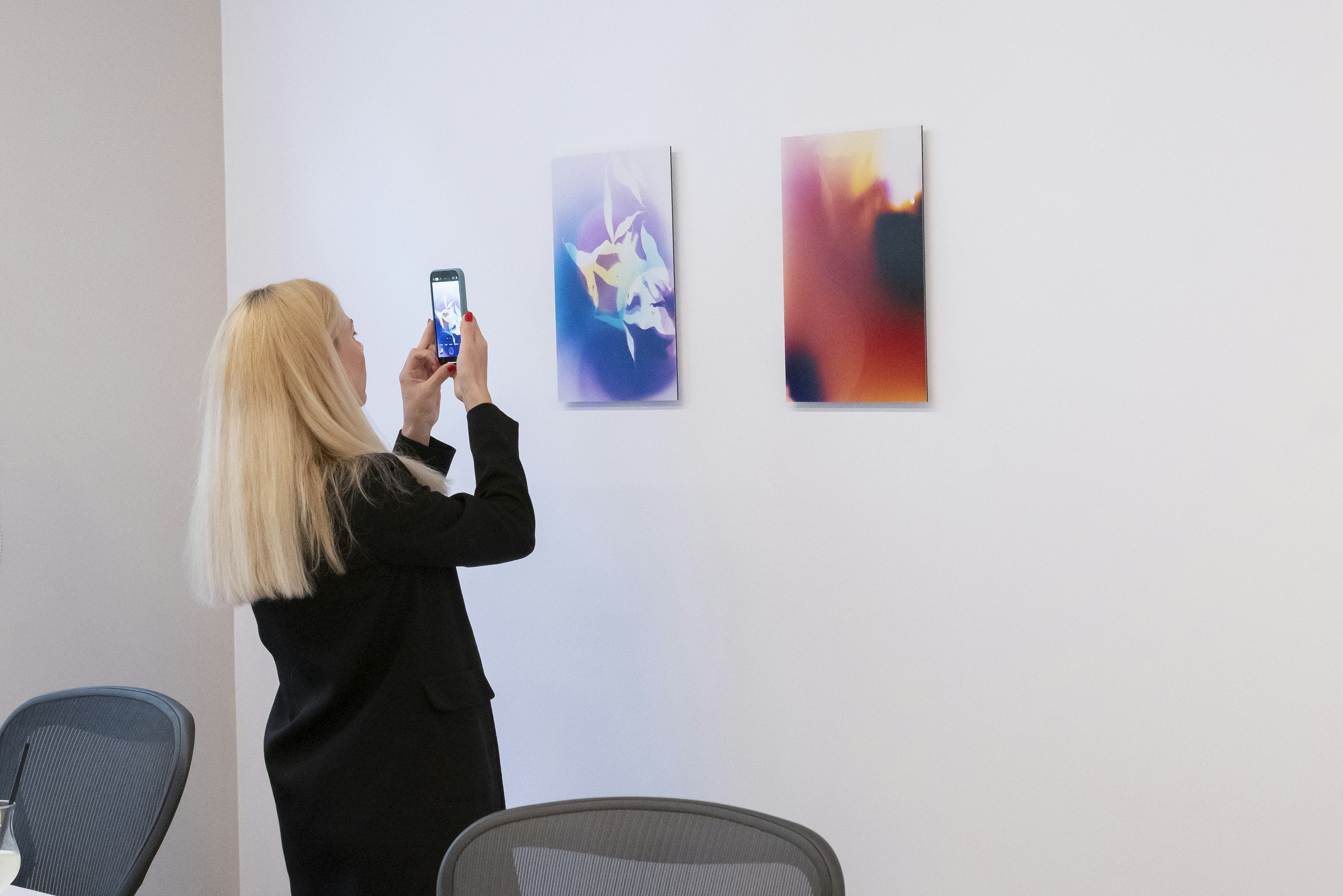 ---
In a way the works that were created didn't depend entirely on me but also on you, the employees, who gave me objects that were out of my control. To me it was something like losing control and regaining it, but I found that to be very inspiring. It has always been a great interest of mine how artworks are being produced and how exhibitions manage outside of the white cube. In the white cube everything looks the same as if all walls are perfect and each art piece is hanging on a clean white wall – this is wearing off at some point. So this challenge was very positive for me and the objects and folios are still keeping my thoughts busy.
foryouandyourcustomers: What was your approach to the challenges – whether mentioned above or not?
Marta Djourina: To repeat, I'm very grateful to Viktoria for our conversations. Through them I got the impulse to stop and think about who is working at the place where my art would be displayed. I suddenly thought that my work would be like a label saying: "Here are some artworks which will be around you for 10 months." And thinking about the situation from a more personal perspective, I found it fair to start with you, the employees. Perhaps the art exhibition would be slightly different if more people turned in objects or if we had the opportunity to meet more. There were no obstacles in the process with the team – everyone who wanted to turn in a personal object did. 
"Perhaps there was a dimensional thinking of the process as it depended of many elements, many people at the same time."

— Marta Djourina
Thinking about it, for me that Monday in the office after the Vernissage was a very special one. It was nice to walk among the art with the team and get questions from everyone who needed to know which art piece was showing their object. It was like an exchange among you where no one knew what was what, and everyone was imagining something else – different things.
foryouandyourcustomers: Viktoria, as a curator you already had one exhibition organised at a foryouandyourcustomers Sofia. Did the closer experience and familiarity with the company and its values help you in suggesting the next artist?
Viktoria Draganova: Already at the very beginning of our collaboration following the invitation to curate the exhibition program at foryouandyourcustomers, together with Albena Mancheva and Jonathan Moeller we decided on a policy that was mainly oriented towards the support of Bulgarian contemporary art but also following foryouandyourcustomers continuous involvement with arts in all its cells around the globe. We outlined a frame, a long-term one, I believe, which from then on allows us to make decisions for each of the displays and yet keep them within a wider idea or a strategy of showing art in the office. Already with the previous exposition, when we worked with Maria Nalbantova, we had the idea that each project should be closely intersected with the people from the office and linked to the company's context (philosophy and values), but also allow for reinventing the office as a space, also in terms of  presenting it within  the social and cultural context of Sofia.
---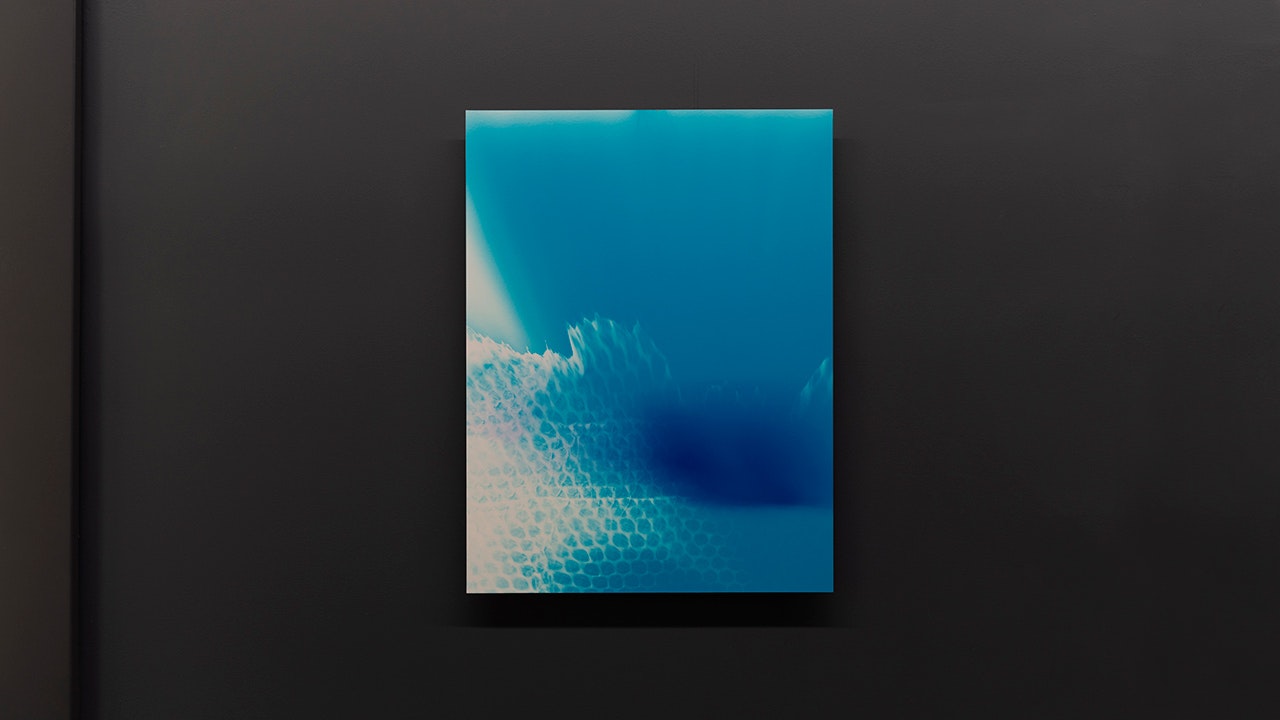 ---
The second exhibition with Marta Djourina only extends these initial impulses, and as such it means developing and improving something that was already there when speaking of energy, connection and (mostly) approach.
foryouandyourcustomers: Marta, your current residence is in Berlin. Is there a similar art event format as what foryouandyourcustomers is doing, intersecting art and business?
Marta Djourina: To be honest I'm not very familiar if there are art exhibitions in offices in Berlin, at least on the scale I see in foryouandyourcustomers. I suppose it does exist. Lately, I'm noticing that there are many more experimental and open approaches connecting different companies, start-ups, etc. and young artists. They find a way to collaborate and the city is expanding its development in that direction. So I think that there is such a movement but I didn't perceive the current work and the exhibition so particularly… meaning my output wasn't influenced by the fact the place is simply an office, but rather by the fact it is an open space where different people gather and also there are people who work there. It wasn't so important in the beginning whether it was an office or a public building, more important was who was using the space and how.
Viktoria Draganova: For me the important thing here is that the project can't be repeated and each time, each process is unique. 
Mostly when talking of office art one would think of mainly painting or photography. Seldomly – and even less so in Sofia – companies invest into art and collecting that has some institutional relevance. 
What we are doing with foryouandyourcustomers makes the difference as we work on very extraordinary terms as we begin by selecting artists that are a very vibrant part of the art context and then we support production and exhibition even if there are challenges. This allows an intervention from the artist, an intercession in the office and moreover working directly with the people in it. I think that what we are describing in this interview can't even begin to capture the gesture, the experience which each of us goes through.
---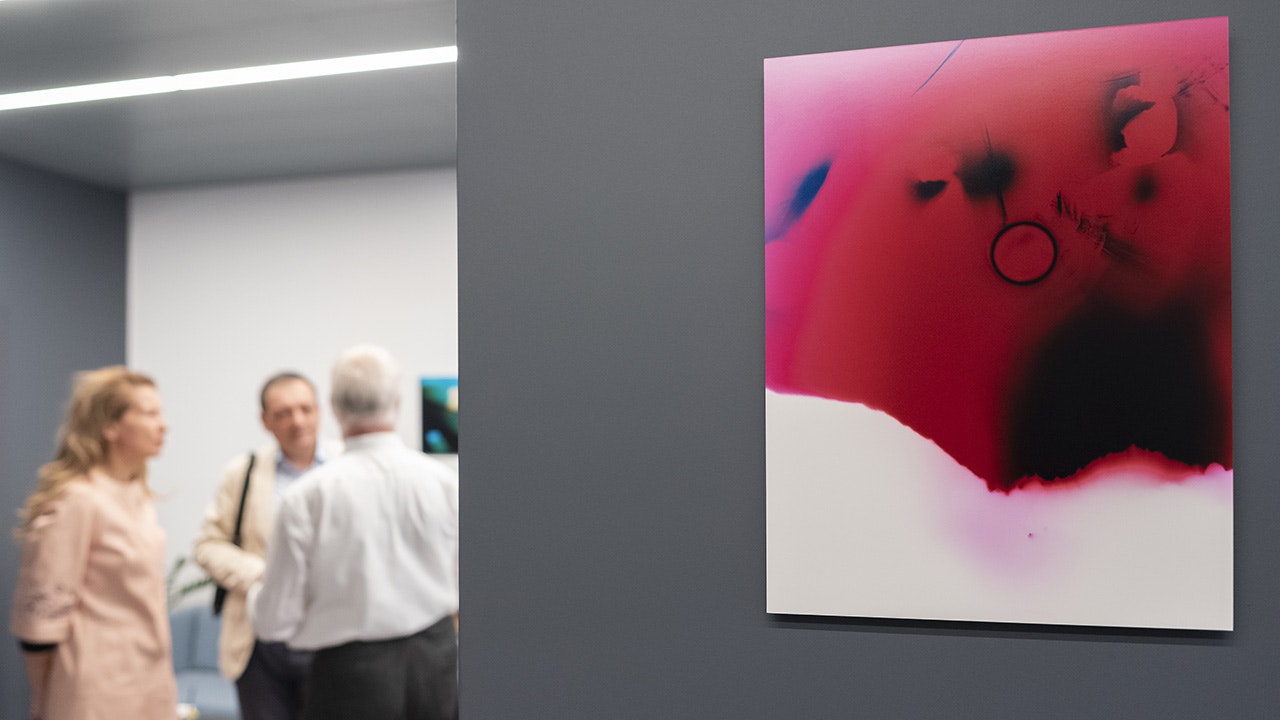 ---
That is why I believe that our efforts are towards something exceptional for Sofia because the city has a dire need of art spaces that are outside of the white cube both in a manner of space and of regulations. It's very interesting what Marta said – how at some point it gets mundane making art exhibitions in the white cube. And I wondered why. Perhaps through the missing person, the missing dialogue, the white cube is presenting an abstract notion of audience, and that is something that can't happen in the office and in the format we are discussing.
Marta Djourina: Perhaps with the passing of time and especially the past two years of pandemic situation and lockdowns, and constant art exhibitions in digital formats mimicking or showing the white cube, I experienced an oversaturation. But I agree that the white cube is something like a missing observer or partner, or trying to replace one but not being able to.  
foryouandyourcustomers: Viktoria, last time the art was created directly at the office. This time it was different. Did you find working through a distance with Marta more challenging?
Viktoria Draganova: Thankfully we have enough time to develop the ideas for each exhibition, which allowed us to work on it for a few months. Marta had the chance to come to the office several times and she also visited the previous exposition. There wasn't a moment when you could say that something in our conversation was missing, or at least I felt it like that.
foryouandyourcustomers: Viktoria, I bet the selection of an artist is difficult and you always propose several strong candidates. What made you choose Marta for the 58th exhibition?
Viktoria Draganova: The important thing about Marta for me is that her practice has a very interesting angle within the art discourse. The way she works with the photographic material is reflecting the way our relation to materiality within the digital age changes. Marta recently had quite a few  exhibitions at public institutions and independent art spaces, showing that her observations are much needed. This is important to the extent of the discourse we are having here and that is why I wanted her to show her work. What Marta is doing is the missing link between photography and painting and in a macro frame point of view – rethinking art and the borders of the different genres in it.
foryouandyourcustomers: Marta, what made the photogram your chosen art technique for the current vernissage?
Marta Djourina: As Viktoria said, each process is specific. Within this project each personal object you gave me, actually bestowing me your trust giving me the right to work with each object, is exclusive. Each object was totally different.
---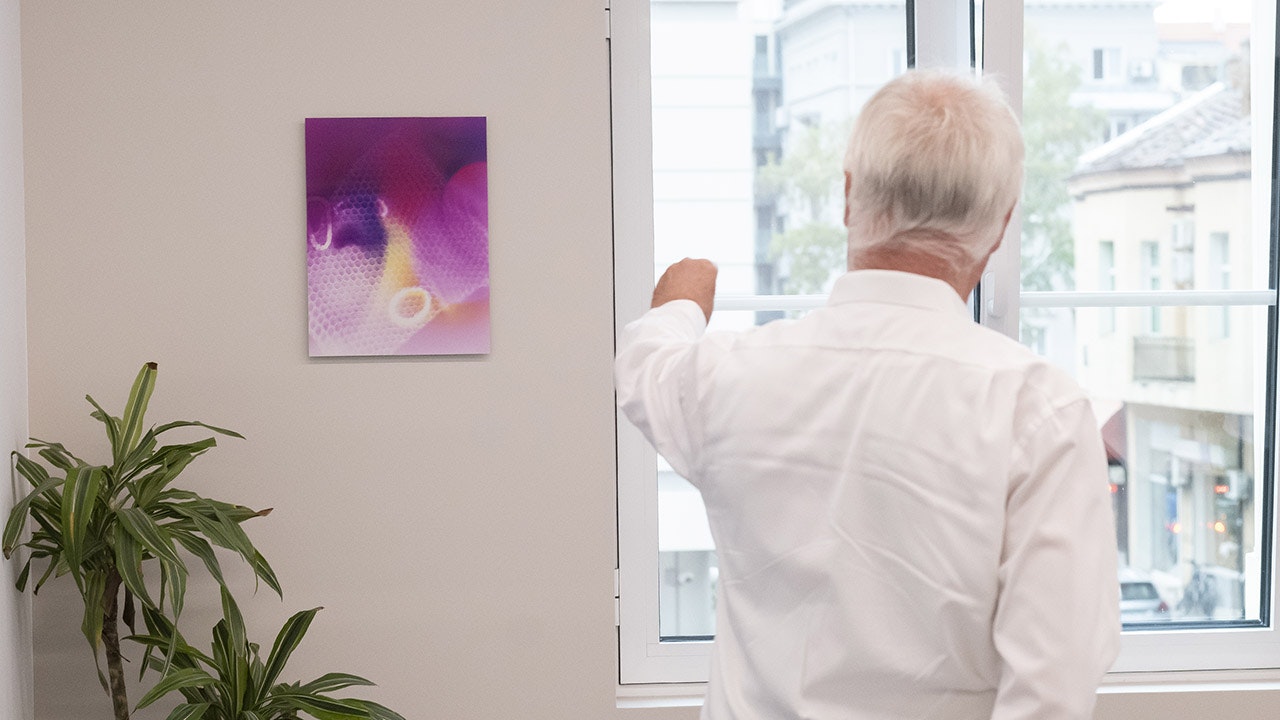 ---
What makes photograms personally more interesting? It's the process or the quality of the paper to keep a trace resulting in both a direct and indirect trace of an object. With "direct trace" I mean that the object is laying directly on the surface of the photo paper, but the "indirectness" is happening with the relocation of the object's presence through light. What I thought suitable for capturing the moment of you bestowing me your trust was the photo paper that, if you look at it like a standard photography process, is keeping a single framework or a moment. A moment from a certain reality.
On the other hand, perhaps the abstractness is hidden in the way the photograms were created – under the influence of different light sources. In other words, there, in the lab the control came back to me. You gave me the objects and the composition was dependable on them. My personal intervention, or my "touch", was within the colours, where the indirectness lies.
foryouandyourcustomers: What atmosphere did you want to create for the visitors, and what for the employees? How was it different from one other?
Viktoria Draganova: The exhibition is for the office first, but at the same time this office transforms into a public space when outside audiences visit it. It is a semi-public, semi-private space since, above all, the people working in it spend so much time there. And this aspect is very important because somehow we imagined this space as a home, well not exactly a home, but through the idea of sharing private objects from your personal life with your colleagues and other people, who would potentially view the exhibition. This is also one of the reasons why we decided to arrange the art works in the office in a delicate way – not so much to create a spectacle, but to create almost a meditative, and also poetic rhythm in the space.  
foryouandyourcustomers: The name of the exhibition is "In Touch". What kind of touch is captured by the art pieces and what realities are intersecting?
Marta Djourina: The title in English has several meanings and perhaps that is where "In Touch" came from – to stay in touch and also there is the moment of a touch, happening between the objects, or precisely in technical terms: between each of the objects and the photo paper. Between the paper and the light, actually. Where is that touch in the process of creating the works? Really, where is it? What do we actually see in those works? An intersection of a touch or an inquiry of it, or an idea of it, or perhaps the lack of a touch – the imagining of points of contact was actually my starting position in finding the title.
Another element that we didn't mention is the folio on the glass walls. It is also representing an abstract touch, for it represents a slushed trace of my fingers on transparent material, scanned and enlarged. So here I also ask myself where are both myself and my hand left in this work, while keeping in mind that the only thing touching the object truly is а single ray of light from a great distance.
"... we have the opposite between touch and work in a medium that excludes emotion - the inertness that we restore through art..."

— Viktoria Draganova
Where is the touch between us left at all or where is it left between you in the plane of daily life, as Viktoria said, very curious. Where is the touch between your personal sphere, your life outside the office and the office itself left. We maintain different points of view to this and we are constantly going back to the touch.
Viktoria Draganova: Concerning the title, Marta gave me the idea of touch on two levels. From one point of view we have the touching between the object, the light and the material – the photogram. This is on a technical level. And then we have the same intersection on a metaphorical level, which Marta described above. And after that we have the opposite between touch and work in a medium that excludes emotion - the inertness that we restore through art and with which we work.
Marta Djourina: We haven't looked at it from this side. Or at least I haven't formulated it like this for myself – restoring the connection through the art works. Somehow through this intervention they seem to be the missing link.
Actually this is how it started, because I noticed the lack of personal objects, which was very visible on one of my visits to the office. Even though there was a toy from someone's childhood time – a fluffy creature.
Viktoria Draganova: The objects were not sentimental, nor souvenirs, there were such, but not all of them. There were objects that were given mostly out of curiosity how they would look but anyway that was sharing, and perhaps sharing was also one of the topics. The sharing was something that I defined as the thing that you are doing because you were invited to do so, and not because you have to or because you must show yourself in a current way.
---
Surrounding ourselves with art is part of the corporate philosophy of foryouandyourcustomers. In each of our international cells, we follow the tradition of organising art exhibitions by contemporary artists with the support of local curators. In the past 13 years, the total number of all art exhibitions organised by foryouandyourcustomers has exceeded 60. But that's not just a number. We value exciting art in our office space and support a variety of artists in developing while remaining recognizable – since personal development is part of the philosophy of foryouandyourcustomers as well. 
Marta Djourina was born in Sofia and studied at the Berlin University of the Arts and at the Glasgow School of Art. Her works have been shown in numerous exhibitions, most recently at the Berlinische Galerie, at the Sofia Arsenal – Museum of Contemporary Art. 
She creates individual series with works ranging in size and context. Some of her works are focused on the physical qualities of traces of light and others fixate on the ephemeral aspects of it. This is also related to her new focus depicting touch in the picture rather than the movement in it.
This is the first time Viktoria and Marta work together.  
Viktoria Draganova is a curator, writer and educator. She lives and works in Sofia.
In 2015, she founded the Blue Cube Foundation along with Swimming Pool – an art space in Sofia focusing on curatorial and art research, collaborations, and art education. In 2018 and 2019, she initiated two international curatorial schools, and since 2020, she participates in several working groups engaged with fostering social and structural support policies for art workers and independent organisations in Bulgaria. In 2021, she founded the Center for Social Vision, an interdisciplinary platform for art's involvement in social processes. Since 2022 she is the editor-in-chief of the Journal of Social Vision. Viktoria is also the initiator of the Sofia Art Map.
---